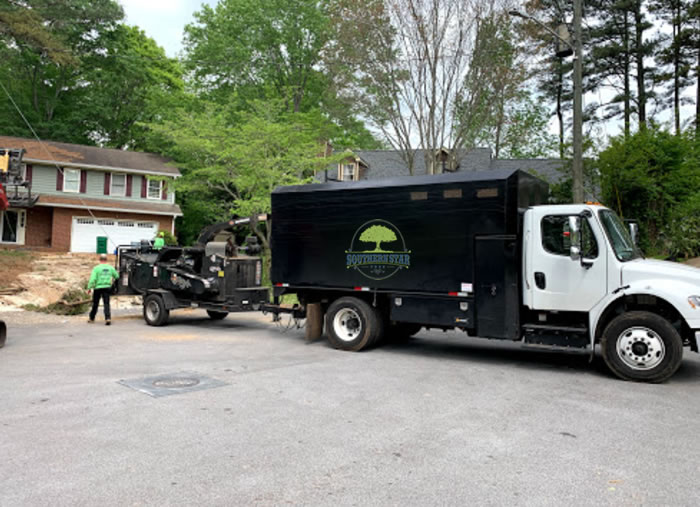 Arborist in Dunwoody
Trees are not just majestic fixtures that beautify your yard and provide shade or fruits. They are living organisms that have wants and needs. There is no one who can best understand the trees on your property than an ISA-certified arborist in Dunwoody. Any homeowner or business owner in Dunwoody who is looking to hire an arborist can stop searching the web for "certified arborists near me" and call Southern Star Tree Service instead. We are a locally owned business with competitively priced services and our 40 years of collective experience are at your service. Call Southern Star Tree Service now to get started on scheduling your flexible appointment with one of our Dunwoody arborists.
What Is an Arborist?
You would be forgiven for not knowing what an arborist is. They are specialized professionals who work to perfect the science of cultivating, caring for, and maintaining trees, shrubs, and other perennial woody plants. Just as a doctor cares for us, an arborist cares for trees and plant-life. After all, there is a reason why arborists are sometimes referred to as "tree surgeons."
Our arborists are educated, trained, and equipped to detect disease and decay among trees. They understand the natural process involved with trees and treat trees by using sophisticated techniques and tools. Basically, arborists can have your trees looking vibrant and healthy!
What Services Do Our Arborists Provide?
Trees are living organisms that provide visual appeal as well as practical benefits for our landscape and bodies. They offer shade, oxygen, and delicious fruits. Arborists provide the services that keep those trees looking vibrant and healthy. Specifically, the following are some of the arborist services we provide at Southern Star Tree Service:
Layout Planning: An arborist doesn't only work out in yards. An arborist spends time in the office to design and prepare layouts for parks, businesses, and property owners. This includes planning new planting as well as maintaining existing layouts.
Pruning and Trimming: Tree Pruning and trimming are meant to remove limbs that pose a safety risk to pedestrians, interfere with utilities and structures, threaten the health of the rest of the tree, and more. Arborists can determine the pruning necessary to maintain and even improve the health, appearance, and safety of your trees.
Fertilization and Soil Care: Our certified arborists can make modifications to soil in order to support sustainable and efficient growth. This is an easily undervalued skill as different species of trees require different nutrients.
Planting: Not all trees are can survive in all locations. The wrong tree in the wrong location at the wrong time could lead to insects, diseases, or poor growth. A certified arborist can plant trees and recommend species that are best suited for your property.
Get Your Free Price Estimate Today
We know that you like to budget your expenses. That is why we offer free price estimates upfront. Call Southern Star Tree Service to consult with a friendly professional and get your free price quote today.