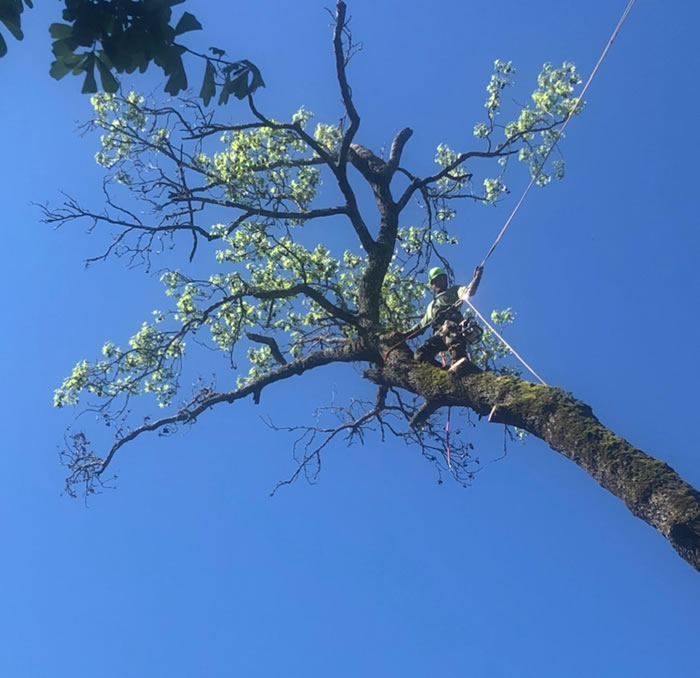 Arborist in Johns Creek
Landscaping is both art and science. You have probably seen beautiful landscaping with clean edges, majestic trees, and mesmerizing patterns, but not many people think about the professional responsible for that work. An arborist is an expert in the field of arboriculture, the study of trees and other woody plants. They are in the business of cultivating, caring for, and maintaining trees, shrubs, and other perennial woody plants. Just as a doctor cares for us, an arborist cares for trees and plant-life.
If you are searching for certified arborists near me, then call Southern Star Tree Service today for a FREE consultation! Our friendly professionals are always happy to help or schedule an appointment with one of our Johns Creek arborists.
Not Just Any Arborist
Just as in many other professions, arborists that demonstrate their advanced level of knowledge are awarded certifications. The International Society of Arboriculture awards this certification and we are proud to say our arborist in Johns Creek is ISA-certified. This means that you will be hiring a professional with a solid understanding of the tools, techniques, and concepts involved. Don't hire just any arborist, call Southern Star Tree Service to hire one of our certified arborists in Johns Creek.
Johns Creek Certified Arborists
Some of Our Arborist's Services
Arborists have a complex understanding of trees and other perennial woody plants. As such, the services they provide range from layout planning and planting trees to maintaining and even removing the trees. These are just some of the services our arborists provide in Johns Creek:
Layout Planning: An arborist spends time in the office as much as they do in the field. They design and prepare layouts for parks, businesses, and property owners in order to provide an aesthetically pleasant area.
Pruning and Trimming: An arborist knows how to remove limbs that pose a safety risk to pedestrians, interfere with utility poles and structures, threaten the health of the rest of the tree, and more. They also know how to trim the exact branches to maintain and even improve the health, appearance, and safety of your trees.
Fertilization and Soil Care: Our certified arborists can test and adjust soil in order to support sustainable and efficient growth. This is an incredible valuable service as different species of trees need different nutrients.
Planting: Not all trees are made to survive in all locations. The wrong tree in the wrong location could lead to infestations, diseases, or poor growth. They can even cause damage to your property. A certified arborist can plant trees and recommend species that are best suited for your property.
Tree Removal: We like to leave this service as a last resort, but there does come a time when a tree removal is necessary. Arborists know how to safely remove trees without damaging the rest of the property.
Schedule Your Appointment
If you are interested in hiring an ISA-certified arborist in Johns Creek, then call Southern Star Tree Service to get in touch with a friendly professional today. We are happy to answer any questions or concerns and schedule your flexible appointment.