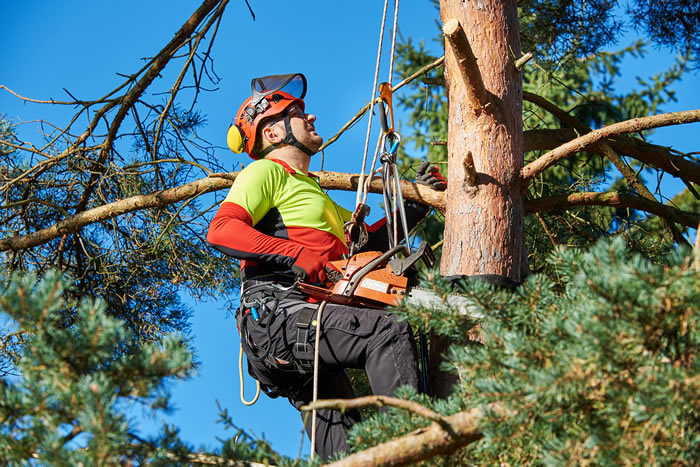 Tree Trimming and Pruning or Tree Removal Can Be Hazardous
If you are a property or homeowner, you probably have some experience with a shrub or tree pruning and trimming. If you prefer a more hands-on approach, you've probably used a chainsaw for tree removal or stump grinding. However, tree care can be a dangerous endeavor, even for a trained tree service professional. It would help if you considered onboarding a licensed, well-trained, and insured tree care company to handle complex hazardous tasks. At Southern Star Tree, we have a team with extensive industry experience and knowledge regarding tree care and maintenance, guaranteeing exceptional services without compromising on quality.
The Tree Care Industry Association (TCIA) gave a report stating that out of the 118-tree care-related incidents in 2020, 48 of them were fatal. Most of these injuries resulted from contact or being struck by electrical wires or falls. These tragic accidents occur among trained professionals and amateurs alike, calling for a reputable and reliable service provider.
Southern Star Tree has a team of well-trained professionals who uphold professionalism and safety, alleviating any risks and guesswork from the tree trimming or tree removal process. We ensure that every job is done for the safety of your family, property, and our team. We have taken extra measures to equip our team with safety gear for peace of mind during tree care and maintenance. The last thing you want is an unlicensed and uninsured service provider who gets injured on your property, holding you financially liable. Here are some reasons you should consider Southern Star Tree for your next tree maintenance.
Safety and Convenience
We leverage state-of-the-art tools and equipment for tree pruning and trimming as an established tree care company, mechanized and otherwise. Whether it is a complex job like tree removal that requires lift trucks or a minor tree trimming job that requires a ladder, we can ensure that all the electrical lines overhanging your home are avoided to prevent property and personal damage. Our tree care professionals are also trained in tree climbing to reduce personal injuries.
Knowledge
Tree care experts like arborists know how to trim a shrub or tree to fit perfectly in a specific area without compromising its health and vitality. We also know how to avoid rookie mistakes like over-pruning and make informed recommendations for long-term maintenance to achieve the desired results. When we perform tree pruning and trimming, we can also identify areas infested or attacked by disease. If the damage is irreversible, tree removal can be recommended to minimize safety hazards on your property.
Equipment
Purchasing tree maintenance equipment can be quite expensive, especially if you only plan on using it once and storing it in the shed. Nobody wants a shed full of tools that are not used but cost a fortune. A tree care company can protect you from incurring extra costs by providing routine maintenance with the appropriate tools. Contact us today at Southern Star Tree for residential and commercial tree care maintenance at a competitive market price. We guarantee exceptional services without compromising quality and safety.